Neighborhood Websites and Community Web Site Solutions.
Private and automated Neighborhood website solutions help to bring a Return on Investment for your Community, Realtors and other Sponsors, as well as provide interactive communications tools for Homeowner, HOA and Condo Associations. Our unique automation technologies constantly bring members back, to ensure your website is regularly used!
Realtors and Other Sponsors:

Build more relationships
Lower your farming costs
Increase your referral business
Win more listings

Automatically stay in contact with your farm area and make sure people remember YOUR name

Our Private, automated Neighborhood websites help you to create brand awareness and dominate your target farm areas!

Home Owner Associations (HOA):

Improve your communications and service to Residents and Association Members, with this very high quality and affordable approach. Our websites are flexible and easy for you to maintain.
Realtors | Mortgage Professionals | Home Owner Associations | HOAs | Condo Associations | Community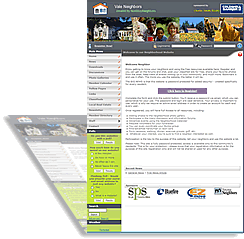 Our Clients include Homeowner Associations and other groups who are looking for an easy to use communications solution for their community communictaions. Also, Real Estate Agents, Mortgage and Finance Professionals, and others, who seek to benefit, and get a return on investment from sponsorship and association with a highly-valued, high quality Neighborhood web site resourc
This is the Neighbors101 difference: Your sponsorship of a service for Residents can give you a return on investment by providing you with a highly effective e-farming tool. This is possible because of the four main benefits provided by our solution:
Our websites are PRIVATE (password protected), so residents have to register, which means you immediately build your community email list.
Registration means we can now AUTOMATE the process of permission-based communication and update to members. This solves one of the biggest problems of community websites, namely how to get members to return and use it! As a Sponsor, this is not only critical to ensure use of the site, but this also automatically and regularly places your name in front of all residents.
Neighbors101 solutions provide an INTERACTIVE resource (no delayed reactions here!) focused on the needs of residents and members, so there is a compelling reason for residents to immediately register, and the sites are then used, helping you as management or sponsor, to achieve your goals.
PRIVACY allows for members to instantly interact with the site - moderation of members content ceases to be a concern as all interaction has a visible audit trail ensuring good neighborly interactions!
None of the above benefits can be found in sites that are not Private. Privacy is critical if you are to achieve your marketing goals.
Realtors and other Sponsors! Click here to read more about the main benefits of our Neighborhood web sites that will bring you a return on investment.
Read what our Clients say about us!
Come in and see our live demonstration site!

For Farming Real Estate Agents:
Community Intra-nets
HOA and Condo Associations

This is a Real Estate Marketing tool! A Private and Interactive web site for your target farm area. With over 10 application areas, our solutions provide a high-value resource for residents, which they can use themselves.

Sponsorship allows a local professional (e.g. Realtor or Mortgage specialist) to establish name recognition and credibility in their target neighborhood.

With information and a selection of applications, our solutions provide a useful resource to a large community area.

Advertising is limited to just the sponsorship by the main sponsor. These are great, high-value and informative resources for residents and potential residents alike.

Your neighborhood's INTRA-NET!

A private and interactive Intra-net that will help you communicate, share information and build your community.

HOAs can easily communicate using form-driven newsletters, news and your HOA Document Library where you can store and allow download of any type of document.

Interactive application areas like Forums and classified-ads, allow the Residents to get great value from this resource.

No limits to number of users!
We also provide non-sponsored solutions to home owner and other associations who are looking to provide a valuable information exchange resource for members of their communities.
Neighbors101 is a brand name of NonStopNeighbors - a Denver, Colorado based company. We pride ourselves on our Client support and total Client satisfaction.