Neighborhood Web Site Features and Our Service
Our Neighborhood Web Sites provide a high-value internal and interactive resource for residents / members of a neighborhood or community.
The content is not static, it is made up a set of tools that allow residents to share, communicate, plan, debate, and remember.
Our suite of applications provide all the functionality for you and registered residents.
This section explains the general suite of functions available to Registered Users and the Administration function (which is under the control of the Site Owner).
To see Features for Administrators, click here!

What's Included for Members
A Neighborhood Web Site consists of the following components:
Automatic Updates sent out on a regular basis to inform all members of all new content
Private messaging
A home page that can be changed
A 'static' content page for 'Sponsors' or 'Committees'
Multiple integrated applications which are available for use by registered users:
Private Messaging between members
News section, available for Administrator to update
Multiple discussion forums for residents
Photo Gallery
Classified Ads for residents
Surveys for residents
Residents' members directory for residents

Calendar for residents
Document Library database
Dynamic Links database
Residents' Services database
Newsletter, available for Sponsor
Registration process
Residents' business yellow pages
Weather

Additional static pages can be purchased.
What can the Administrator do?
Change content on home the page
Create and manage NEWS categories and add news
Create and manage CLASSIFIED-ADS categories and moderate entries
Create and manage FORUMS and moderate content
Moderate content in the CALENDAR
Add and manage photo ALBUMS and post photos
Create and manage YELLOW PAGES categories and moderate entries
Create and manage RESOURCES / DOCUMENT categories and upload, categorize and manage document uploads
Create and manage LINKS LIBRARY categories and create, categorize and manage web-links
Manage USERS: add, view, export and delete users
Set up and manage POLLS
Create and send out an email NEWSLETTER
Our Service to You also Includes:
Technical Support and Assistance - on-line HELP DESK and comprehensive Help for users and Administrators throughout the system.
Virtual Assistant Service - an extra, optional service that will manage your site totally on your behalf.
We want your site to be a big success!
Discussion Forums are a way for residents to communicate and share ideas and views with each other on many different topics.
We have created these to be easy to use by anyone.
It is possible to set up any number of "open" Forums for residents, covering a wide variety of discussion topics.
Discussion Forums can be set up as "read only" allowing only the Owner, Staff or other administrators or committee members to add information.
Discussion Forums can be set up as "for admin only" allowing only the Owner, Staff or other administrators and committee members to share information between themselves if necessary.
Residents can post their comments and reply as they wish in any open forum.
Only registered members can view and contribute to forums.
The Administrator can moderate discussion entries, remove offending entries and bar users if necessary
The photo gallery can be used by residents to remember events and / or anything else that happens in their neighborhood.
The gallery allows for any number of photo albums. Within each album you can have any number of photos.
Residents must submit photos for vetting before they get posted. The upload of photos is a simple automatic process that is performed by the Administrator / Manager who can vet all photos.
Each album allows:
Viewing of each photo
Sideshow: click on this button and you will see all the photos presented to you in an automatic slide show
Send as e-card: Click on this and you can send the photo to anyone via email.
Addition of comments to each photo by registered users
Only registered users can view and submit photos.
A Yellow Pages provides a directory of home based or local businesses.
This allows the residents to post details of their business so their neighbors can see what they do.
The Administrator can edit or delete entries.
Only registered users can add or view entries
Sell Advertising (only available on some packages)
Advertising and Sponsorships - in YOUR Control!
With this Module installed, you can offer advertising spots to your business partners and local businesses.
Your site can pay for itself!
Set up your advertisers, and add their logos. These can then be displayed as additional "sponsors" (as shown in the figure below), or they can be sponsored Yellow Pages too.
You can decide if this is a free or chargeable service!
Automated Digest (only available on some packages)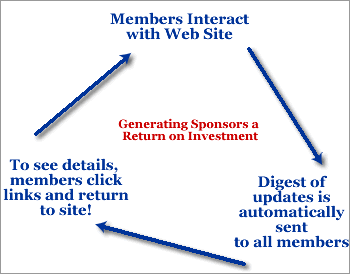 The aim of the auto Digest is to solve one of the biggest challenges of any neighborhood website, which is how to make the use of the site more habitual, so that you can get a maximum ROI (Return on your Investment)!
The auto Digest solves this problem by constantly reminding people about what is happening in their community website and giving them the links to come back in and participate.
Fully Automated!
This fully automated email will update all Registered members of your site on all recent additions and activities (all areas of the site such as "News", Uploads, Photos, Forums, Classifieds, etc).
Control Frequency
The Digest email will be sent out automatically, on a regular basis (weekly, monthly etc) - there is nothing you need to do to ensure they are sent!
NOTE: we still encourage all our clients to send out regular email newsletters to resident members. The auto Digest is not a replacement for good, valuable and appropriate local news!
Classified Ads is a function that can be deployed in a number of ways.
We typically create two different uses:
Standard classified ads, where residents can offer or request items for sale.
Request or offer services such as baby sitting, lawn cutting and so on.
Part of the benefit of the privacy is the confidentiality of these entries. Parents can feel comfortable that the offer of services is made within the local community, not across the world wide web.
A photo can be easily uploaded with all adverts.
The Administrator has the ability to edit or remove any classified ad.
Comprehensive services and links to high-value local real estate information positions a sponsoring Real Estate professional to stand out from the crowd and be seen as the local expert.
Our Real Estate module includes 7 areas of value for consumers and residents:
Local Real Estate Home Page with your photo and a message about your services
Live Real Estate News feed from INMAN news and the REAL ESTATE JOURNAL
Featured Listings pages for you to present as many featured listings as you wish or link to your own featured listings web page
Search for Homes allows you to FRAME in the neighborhood site, or link to your local IDX solution or home search service
Home Sales Report allows you to provide a documented history and audit report of home sales in the neighborhood
Find your Dream Home is a home buyer lead generation tool
Check your Homes Value is a home sellers lead generation tool
See all these features live on our demonstration site. Click here to access our demo site!
The Calendar provides a central place for residents to note events of common interest.
This could include specific local events like a block party or garage sale, or perhaps more general events like school vacations and so on.
Calendar entries can be edited or removed by the sponsor.
Only registered members can add or view the calendar
Customize Your Site with your Own Website Graphics!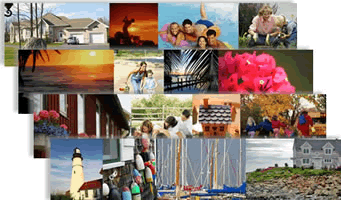 Each neighborhood has its own personality - so can your neighborhood web site!
We have two options:
Standard Library Headers
All packages include the option to choose from our library of fabulous looking headers!
Click here to see them all
Custom Header
Our more advanced packages allow you to upload your own header graphic. Simply review our specifications and have your own designer create the website header for you to upload!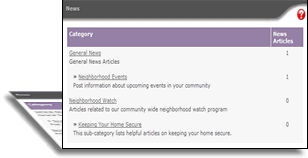 The Administrator can post news as they wish. This is under the control of the Site Owner.
The 'news' can be any text - so this can be used to launch competitions, make announcements and so on.
If residents wish to add news, they can either submit news to the sponsor, or use the Announcements forum in the Forum section which is available for residents' contributions.
The Administrator / Manager can create a text and / or HTML newsletter to be sent to residents.
The newsletter is sent to registered members email addresses.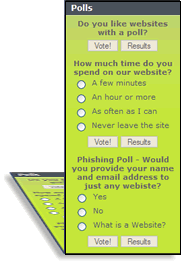 Polls and surveys are a fun way to get interaction between residents.
The Poll can be changed as often as the Administrator desires.
Once a vote has been made, the user will then see a graph showing the results of the poll.

When each resident registers, their details are placed in the Directory.
Registered users can edit their personal details using the My Account control area for registered members.
Email Addresses are NOT displayed
Private messaging is available to all members
Members can optional decide to display various details of their addresses
Photographs can be added by members to their directory entry.
Administrators can edit, delete or export details of users.
A Document Library allows the Administrator to upload documents to the web site for residents.
This provides the ultimate flexibility to allow any content to be made available to registered users.
Documents are classified using categories, subcategories and descriptions.
Examples could include, HOA rules, application forms, pool timetables and so on.
Many Realtors use this area for their monthly real estate sales reports.
A Links Library is available for the Administrator to create a resource of hot-links to other webs site resources. Each link is classified using categories, subcategories and descriptions.
Within the Members Directory and the MY ACCOUNT area for Registered Members, each member can send and receive private messages to other members.
A weather block shows the local weather and forecast.
(only available on some packages)
Sponsors: Promote Your Brand!
Our Connecting Sites help you to create brand awareness and dominate your market.
Build more relationships
Build name recognition and brand yourself automatically
Increase your referral business
Make yourself the #1 REALTOR
The Sponsor Logo feature allow you to upload your own logo which is prominently displayed at the top of every web page
The home page can be changed and updated by the Administrator It is possible to have multiple home page designs - one for users who are logged in, and one for unregistered visitors. You may use text or HTML to display content in the Home Page. Each site is delivered with a standard Home Page tailored to your needs.
Each site comes complete with a full registration process that validates members and requires them to agree to a comprehensive set of terms and conditions in order to gain access.