Neighborhood Web Sites for Relationship Building and e-Farming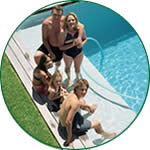 The aim of our Neighborhood Web Sites is to help Realtors, Mortgage or other Service professionals, build relationships.
By providing residents with a quality service that they will want to use regularly, you can ensure people remember your name!
Each Neighborhood web site is a quality service you are providing to the community. It provides a Private and Interactive resource just for residents.
Each site has a comprehensive REAL ESTATE SUITE including Live News, Featured Listings, Home Search links, Home Sales reports, Dream Home form and CMA forms for lead generation.
The interactive applications provide a compelling resource for residents; and because it's Private, they will feel very comfortable using it.

Benefits For Sponsors
For Residents and Members

Save money, time and effort by having exclusive access to all residents' emails for your communications.

Because our Neighborhood web sites are private (very appealing to residents), registration means you get rapid access to a database of emails and permission to send them a newsletter or news, via email every month.

Build name recognition, awareness and credibility at a fraction of the cost of traditional approaches

Because our Neighborhood web sites are interactive (a compelling reason to use the service) they will come back and re-use it. This is a vital part of your strategy if you want to see a return on your investment.

Build new relationships with residents.

You can now use the Neighborhood web site as a great excuse to talk to people and engage them - it's a marketing tool!

Promote your local Real Estate Services.

Present your Featured Listings and provide high value Home Search tools for local residents and general visitors!

Communicate

Use the discussion Forums to discuss issues and topics

Coordinate

From garage sales to block parties, use the Calendar to communicate plans.

Debate

Use the POLLs and discussion Forums to drive debate and discuss issues important to the neighborhood

Remember

Submit photos for publication in the photo gallery

Sell and request

For Sale and Wanted, as well as Residents Services e.g. for baby sitting (all in a secure, safe web site)

Plan and Organize

Set out plans using the Forums, use the calendar to get everyone on board

Access

Links to local resources, HOAs etc

Review

Download the HOA rules, local covenants, application forms, pool timetables, real estate sales data, all from the Resource Library - what ever you need in your neighborhood!
Specifically, these are the ways your Sponsorship is displayed in the site:
Your logo / message at the top of every page - this can be whatever you want
A Menu item called SPONSORS which take users to a page which is all about you - this can include text, pictures, graphics and links.
All emails that come from the site will mention you as sponsor